Vendakkai puli kulambu - Ladies Finger Tamarind Gravy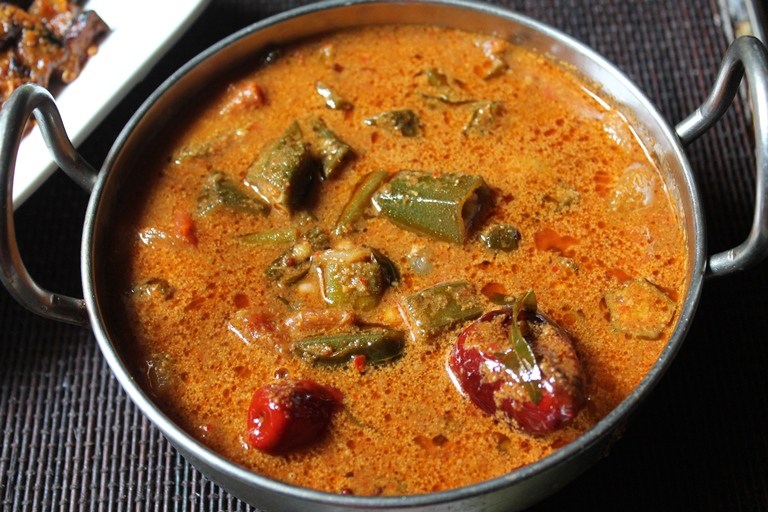 Ingredients
Vendakkai [ladies finger] – ¼ kg [cut in to ½]
Tamarind – Small lemon size [soak in hot water]
Sambar onion – 8
Dry red chilli - 1
Curry leaves – 1 spring
Coriander leaves – 1 spring
Mustard seeds - ½ tbsp
Bengal gram - ½ tbsp
Urad dal - ½ tbsp
Fenugreek powder - ½ tbsp [roast and grind]
Turmeric powder - ½ tsp
Red chilli powder - ½ tbsp
Gingelly oil – ½ tbsp
Jaggery - ½ tbsp [grated]
Oil – 2 tbsp
Asafetida a pinch
Salt to taste

Roasting & grinding ingredients
Bengal gram- ½ tbsp
Urad dal - ½ tbsp
Coriander seed - ½ tbsp
Cumin seed – ½ tbsp
Coconut – 3 tbsp [grated]
Tomato -1 [sliced]
Garlic -1 clove
Dry red chilli – 2
Heat pan with 1 tbsp oil & roast all ingredients one by one then grind to fine paste.
Method
Soak tamarind, dissolve and extract.
Fry okra with 1 tbsp oil for 10 min.
Heat pan with oil add mustard seeds then add begal gram, urad dal, onion sauté. Then add fenugreek powder, asafetida, dry red chilli and curry leaves.
Add fried okra, turmeric powder, red chilli powder and salt mix well.
Add tamarind paste and water mix well then cook till raw smell out from tamarind.
Add ground paste mix well then add water as required.
Once boiled add jaggery and salt. Then cut of heat sprinkle chopped coriander leaves, ginglly oil serve hot with rice.



See Also

Vendakkai puli kulambu - Ladies Finger Tamarind Gravy, Kathirikai bonda puli kootu, Vatha Kuzhambu, Kongunadu mushroom masala kuzhambu, Sprouted Green Gram Sambar Dish, Sambar, Tamarind Rice, Lemon RIce, PRAWN CURRY WITH COCONUT RECIPE, Kadai Prawn (Jhinga) Recipe, Indian Tandoori Fish, Bharwan Machli Recipe (Stuffed Fish), Kerala Fish Curry, Fish Tikka Recipe, Macher Jhol (FISH IN BENGALI SAUCE), Amritsari Fish Recipe, Strawberry Cake Recipe, Chocolate Swiss Roll, Peach Cake Recipe, Fudge Cake Recipe, Chocolate Cherry Cake Recipe, Rainbow Cake Recipe, Banana Chocolate Cake, Coconut Cup Cakes, Almond Cake Recipe, Coconut Cake Recipe, Apple Cake Recipe, Carrot Jam Recipe, Pear Jam Recipe, Apricot Jam Recipe, Apple Jam, Shami Kebab Recipe, Murg Noorjehani Recipe, SHAHJEHANI MURG MASALA RECIPE, Murg Kebab Mughlai Recipe, Shahi Rogan Josh, Mughlai Chicken Pulao, Shahi Kaju Aalo Recipe, Eggless Cake Recipe, Mughlai Meat Durbari Recipe, SHAHI CHICKEN KORMA RECIPE, Keema Mater Recipe, Mughlai Seekh Kabab Recipe, Biryani Badshahi Recipe, Stuffed Eggs, Poached Eggs, Egg Pakora Recipe, Mushroom Omelet, Egg Curry Recipe, Indian Egg Biryani Recipe, FLUFFY OMELETTE RECIPE, Cheese Omelet, EGG TOAST RECIPE, Chicken Stir Fry, Chicken Korma Recipe, Chicken Kali Mirch, INDIAN CHICKEN DILRUBA RECIPE, Indian Chicken Curry Recipe, CHICKEN CHETTINAD RECIPE, Chicken in coconut milk, Chicken Bon Bon, Chicken Biryani, Pineapple Chicken, Curried Chicken with Rice receipe, Makhani Arbi Masala, Malai Kofta, Stuffed Bhindi, Bhindi Bhaji, Pindi Chana , Navratna Korma Recipe, Chicken Afgani Recipe, Indian Butter Chicken Recipe,